The New Jersey Devils travel to play the Carolina Hurricanes in Raleigh next Thursday night, and go back on the day after Christmas. The 'Canes have given the Devils fits over the years, including in he Playoffs.
They didn't seem to do so from 1982 to 1997, when they were known as the Hartford Whalers. (They were the New England Whalers of the World Hockey Association from 1972 to 1979, then were brought into the NHL and changed their name to the Hartford Whalers.) But as the 'Canes, yikes. That loss at home in Game 7 of the 1st Round in 2009, going from 3-2 up with 1:20 to go to losing 4-3 still sticks in my craw.
Needless to say, I don't like the Hurricanes. And hockey doesn't belong in the South, anyway. Y'all go back to Hartford, y'hear?
Before You Go.
Being in the South, it's going to be warmer in Raleigh than in Newark. But, this being December, it won't be hot. For next Thursday, the
Raleigh News & Observer
is predicting mid-60s for daylight and mid-50s for night, and rain.
Charlotte is in the Eastern Time Zone, so you won't have to fiddle with your timepieces. It is in North Carolina, a former Confederate State, but you won't need your passport or to change your money.
Tickets.
The Hurricanes averaged 12,594 fans per game last season. That's only 67 percent -- averaging 2/3rds full. In each case, they rank 29th, 2nd-worst, in the NHL, ahead of only the Florida Panthers. For the sake of comparison, the Whalers averaged 13,680 fans per game, or 87 percent of capacity, in their last season before the move. So tickets shouldn't be very hard to come by.
Tickets in the lower level, the 100 sections, are $140 between the goals and $100 behind them. In the upper level, the 300 sections, they're $60 between and $35 behind. Seats in the 200 section are club seats and only available to season-ticketholders.
Getting There.
It's 505 miles from the Prudential Center in Newark to the PNC Arena in Raleigh. It's in that tricky range: A bit too close to fly, a bit too far to go any other way.
If you're going to drive, take the New Jersey Turnpike/Interstate 95 all the way from New Jersey to Rocky Mount, North Carolina. Exit 138 will put you on Interstate 495/U.S. Route 64 West, and that will take you right into Raleigh. You'll be in New Jersey for about an hour and a half, Delaware for 20 minutes, Maryland for 2 hours, inside the Capital Beltway (Maryland, District of Columbia and Virginia) for half an hour if you're lucky (and don't make a rest stop anywhere near D.C.), Virginia for 3 hours, and North Carolina for an hour and a half. Throw in traffic at each end, rest stops, preferably in Delaware, near Richmond and near Raleigh, and it'll be close to 12 hours.
Greyhound has 9 buses a day leaving from Port Authority to Raleigh, but only 3 of them are no-changeover routes. It costs as much as $263 round-trip (though it can be as low as $114 on advanced purchase). The trip takes 13 hours, including a long layover to change buses in Richmond. The station is at 2210 Capital Blvd., 3 miles northeast of downtown. Take the Number 1 or 3 bus in.
Amtrak's Carolinian leaves Newark's Penn Station at 7:24 AM, and arrives at Raleigh at 4:42 PM, giving you enough time to get to a hotel and then to the game the same night. The next morning, the Silver Star leaves Raleigh at 8:45 and arrives back in Newark at 6:23 PM. Round-trip fare is $229. The station is at Cabarrus and West Streets, 8 blocks southwest of the State House. Take the Number 11 bus in.
Perhaps the best way to get from New York to Raleigh is by plane. True, you'd have to change planes at Charlotte, but if you order your ticket online at this writing, you could get a round-trip flight for just $261.
Once In the City. Both North Carolina and South Carolina were named for the King of England at the time of their initial settlements, King Charles I. Raleigh, the capital of North Carolina, was named for Sir Walter Raleigh, the English soldier who led the early English colonization of the Atlantic Coast (Virginia and the Carolinas).
Founded in 1792, Raleigh is home to about 430,000 people, making it the 2nd-largest city in the State, behind Charlotte. The Raleigh-Durham area, known as the Triangle (or the "Research Triangle," to give it a tech-savvy nickname to suggest it's an East Coast version of the Silicon Valley) is home to a little over 2 million people. This ranks it 23rd among NHL markets, and would rank it 27th in the NBA, 29th in the NFL, and 30th and last in MLB, Don't expect it to ever get a team in the other markets, though.
The State House is the divider for addresses. The north-south divider is New Bern Avenue east of the State House, and Hillsborough Street west of it. The east-west divider is Halifax Street north of the State House, and Fayetteville Street south of it.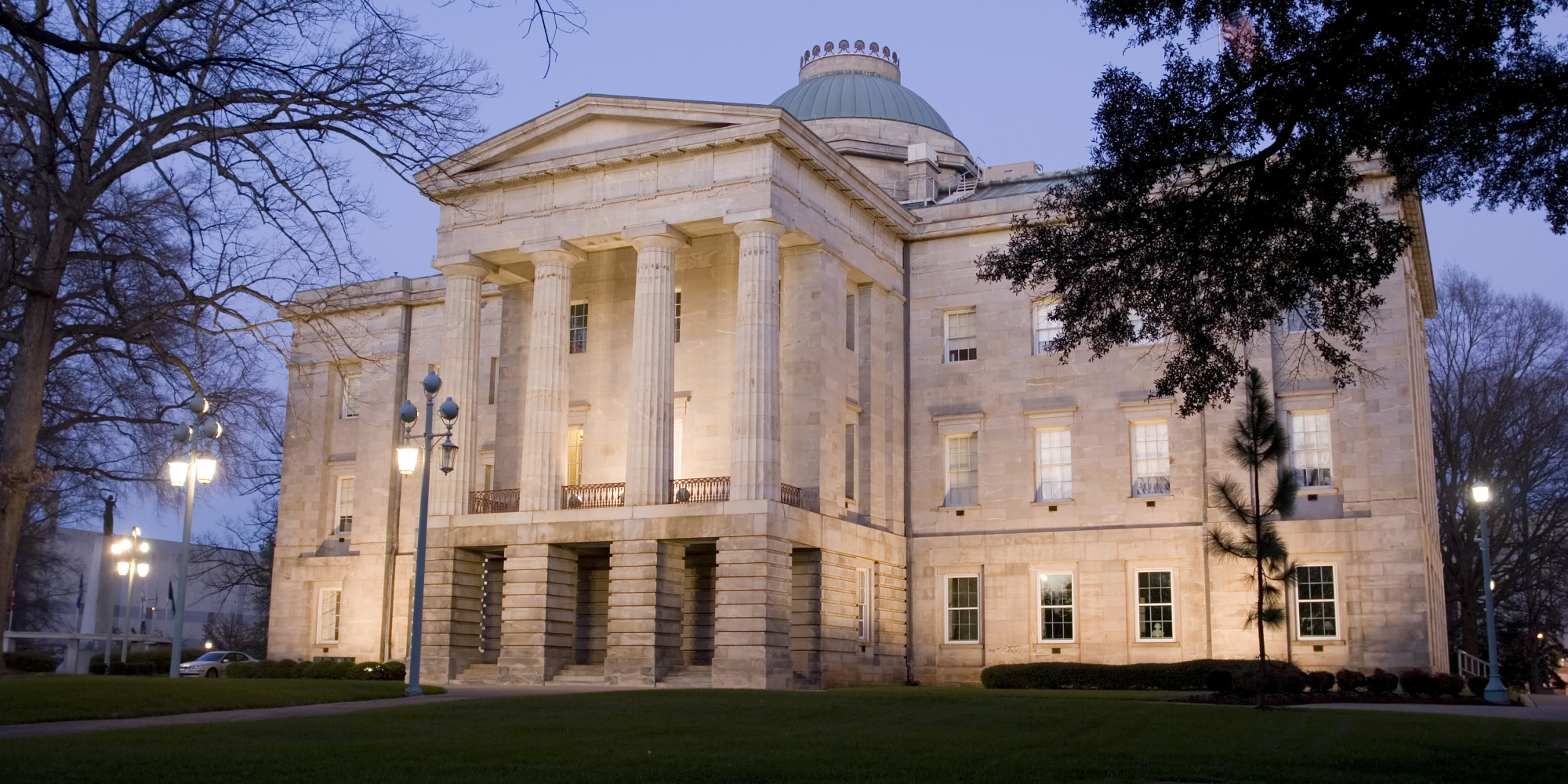 The State House
Capital Area Transit runs buses around Raleigh. The fare is $2.25. GoTriangle serves the Triangle region: Raleigh, Durham and Chapel Hill. There is a light rail system being planned for the area, but it won't open before 2026.
The sales tax in North Carolina is 4.75 percent, but it rises to 6.75 percent in Raleigh.
Going In.
The official address of the PNC Arena is 1400 Edwards Mill Road, at E. Stephen Stroud Way, about 5 miles west of downtown Raleigh. Stroud Way separates it from Carter-Finley Stadium, home field of the football team at North Carolina State University. NC State also uses PNC Arena as its basketball coach, succeeding Carter-Finley Arena, where it won National Championships in 1974 and 1983.
Parking is $15. If you're using public transportation, use Bus 100. That will get you to Blue Ridge Road at the State Fairgrounds, but then you'll have to make a left on Trinity Road to the stadium and the arena.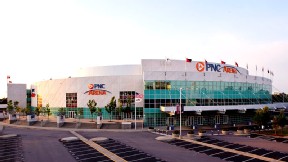 The arena opened in 1999 as the Raleigh Entertainment & Sports Arena, and was named the RBC Center from 2002 to 2012. Concerts held there this year include Eric Church, Kenny Chesney, Taylor Swift and Sam Smith.
The rink is aligned northwest-to-southeast. The Hurricanes attack twice at the southeast end, the sections with 2 and 3 as the middle digit.
Food.
This is the South, tailgate party country, and North Carolina is among the places in this country particularly known for good barbecue. Tailgating is usually not done before NHL games, but there are enough options to satisfy all but the most discriminating foodie.
A bar called The Locker Room is at Section 110. Pub 300 is at, no, not Section 300, but Section 312. North Carolina BBQ Company is at 104, 115, 123, 130, 306 and 326; The Carvery sandwiches and chips (potato chips, not what the British call thick-cut fries) at 104 and 123; Metro Deli at 104 and 326; Sausage Stop at 105, 120 and 304; Rituals Coffee Company at 105 and 120; Dos Bandidos pseudo-Mexican food at 112; South Street Cheese Steaks ("cheesesteak" is one word, guys) at 123 and 324; Fire It Up! Grill Stands (burgers, chicken, fries, onion rings, corn dogs) at 130 and 301;
For dessert, there's Nutty Bavarian at 101, 116 and 316; Gourment Pretzels (as if there is such a thing) at 103, 118 and 304; Breyes Ice Cream at 105, 110, 126, 309 and 329; Dippin' Dots at 105, 110, 120, 306 and 326; Sinfully Sinnamon at 110, 128 and 304; Twisted Waffle at 116 and 322; Poppin' Plants popcorn and cotton candy at 118, 124, 130 and 324.
Team History Displays.
Despite having been around for only 18 seasons (17 if you don't count the canceled 2004-05), the do have some history, which they display with banners for their 2006 Stanley Cup; their 2002 and 2006 Eastern Conference titles; and their 1999, 2002 and 2006 Division Championships.
The name banners are not in place of retired numbers.
They represent Olympians on their team.
Their retired number history is complicated.

When the Whalers moved to Carolina to begin the 1997-98 season,

the previously retired Number 2 for Rick Ley

(defenseman, 1972–1981) and Number 19

for John McKenzie (right wing,

1977–79

) were returned to circulation. The Hurricanes have never issued Number 9,

which Gordie Howe

wore with the Whalers, and consider it unofficially retired, as there is no banner to recognize it.
Number 2 has been retired anyway, for defenseman Glen Wesley (1994-2008, 1997-2008 in Carolina). Number 10 is retired for Ron Francis (center, 1981-91 in Hartford, 1998-2004 in Carolina, and now the team's general manager). Number 17 is retired for Rod Brind'Amour (center, 2000-10).
Steve Chiasson (defenseman, 1996-99, 1997-99 in Carolina) was killed in a car crash in 1999. The 'Canes have not reissued his Number 3. But they can't retire it, because he was driving drunk.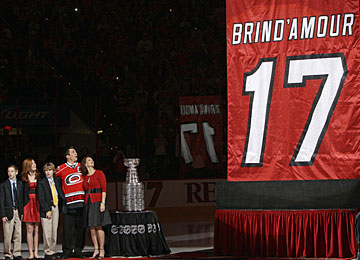 One of the streets in the parking lot of the arena is named Peter Karmanos Jr. Drive for the team's owner.
The Arena also holds banners for N.C. State basketball: Their 1974 and 1983 National Championships, their 1950 Final Four berths, their 13 regular-season conference titles and their 17 conference tournament wins. They also have 23 "honored numbers," including 1983 heroes Dereck Whittenburg (25), Sidney Lowe (35), Thurl Bailey (41) and Lorenzo Charles (43); but only 1974 hero David "Skywalker" Thompson's Number 44 is actually retired.
According to
a May 12, 2014 article in The New York Times
, the Charlotte Hornets' reach doesn't get much beyond the Charlotte area. Then again, it doesn't help that the Hornets play 168 miles from downtown Raleigh. The most popular NBA team in the Raleigh-Durham area, as it has been since the dawn of the 21st Century (dovetailing nicely with the post-Michael Jordan fall of the Chicago Bulls), is the Los Angeles Lakers.
Stuff. The Hornets Fan Shop is on the Trade Street (south) side of the arena. The arena website mentions that it sells not only Hornets merchandise, but Jordan brand items. Just so you know who's in charge. (Of course, that means that, in 5 years, Jordan the owner has won nothing, not even a single Playoff game, which must truly gall Jordan the player. Then again, Bill Russell was a lousy coach when he didn't have Bill Russell playing for him.)
Hockey is not exactly a glamour sport in the South. In North Carolina in particular, it trails basketball, football and NASCAR (which, of course, is not a sport). So there haven't been many books written about the 'Canes. And, since hurricanes frequently hit the Carolinas (hence the name of the team), if you type "Carolina Hurricanes" into Amazon.com, you get books about local storms.
Erin Butler recently published the Hurricanes' edition in the
Inside the NHL
series. And after the 2006 Stanley Cup, the sports staff of the News & Observer published a commemorative book, titled
Whatever It Takes
.
Commemorative DVD sets were produced for the 2006 Cup and the team's 10th Anniversary in 2007, but that's about it as far as videos go.
During the Game.
Unless you're going to a basketball game between Duke University and the University of North Carolina -- especially at Duke -- North Carolina fans, in any sport, don't have a rough reputation. Your safety is unlikely to be an issue.
Amanda Bell is the regular National Anthem singer for the 'Canes. Their fans haven't yet come up with a chant more imaginative than "Let's go, 'Canes!" Their theme song is "Noise" by the Chris Hendricks Band. Their goal song is "Song 2" by Blur (a.k.a. "Whoo Hoo"), and, according to actor Liam Neeson, who, despite being from Northern Ireland, is a big hockey fan, the 'Canes have "the manliest goal horn in the league."
Their mascot is Stormy the Ice Hog. Fortunately, he's not a wild boar, a warthog, or even a Razorback hog like the University of Arkansas' mascot. He's a friendly-looking brown pig, whose jersey has Number 97 in honor of the year the team moved to North Carolina.
After the Game.
Unlike Charlotte, whose sports facilities are now all downtown, Raleigh's arena and football stadium are in a suburban part of town, 2 islands in a sea of parking. Crime should not be an issue: Most likely, you will be safe, and if you drove in, so will your car.
But this setup also means you'll have a bit of a walk back to public transportation, and to any place serving late-night food and/or drinks. Backyard Bistro is across Trinity Road from the complex, and there's a Wendy's at Trinity Road and Edwards Mill Road. If those aren't good enough for you, you may have to head back downtown.
Downtown Sports Bar in Raleigh is the home of a local Giants fan club. It's at 410 Glenwood Avenue at Anwood Place. There are 2 places worth mentioning just off the N.C. State campus. Amadeo's Italian Restaurant is the home of a local Jets fan club. It's at 3905 Western Blvd. at Whitmore Drive. Fuhgeddaboudit Pizza, at 2504 Hillsborough Street and Horne Street, is said to be covered in various items of New York memorabilia. If you're looking for someplace in Durham or Chapel Hill -- in case you, or a relative or friend, is going to Duke in the former or UNC in the latter -- I'm afraid I came up dry looking for references to such places.
Sidelights.
Charlotte's sports history, at least at the major league level, isn't much, and Raleigh's is even less than that.
* Carter-Finley Stadium. After playing football at Riddick Stadium from 1907 to 1965 (demolished in 2005), North Carolina State moved into Carter Stadium in 1966. It was originally named for brothers Harry C. Carter and Wilbert J. "Nick" Carter, N.C. State graduates and major financial contributors. Albert E. Finley, another big contributor, had his name added in 1979. The playing surface is now named for yet another contributor: Wayne Day Family Field.
Currently seating 57,583, the N.C. State Wolfpack have won 3 Atlantic Coast Conference football titles there, in 1968, 1973 and 1979. This is in addition to the 8 titles they won in their various leagues at Riddick Stadium, for a total of 11: 1907, 1910, 1913, 1927, 1957, 1963, 1964 and 1965. Those last 3 conference titles provided the revenue for the building of a new stadium, to replace the obsolete Riddick. It features a display of 10 retired numbers, including current NFL quarterbacks Philip Rivers (17) and Russell Wilson (16), and former New York Jet Dennis Byrd (77 for them, 90 for the Jets).
It was also home to what's been called the worst team in the history of professional football: The Raleigh-Durham Skyhawks of the World League of American football. Their red, kelly green, black and white uniforms, and their jets in formation leaving vapor trails helmet logo, were weird enough. Their cheerleaders, tapping into the aviation theme and the Wright Brothers' first flight in the Outer Banks in 1903, were named the Kittyhawks. Charlotte Hornets owner George Shinn owned them, and Roman Gabriel, another N.C. State quarterback whose number has been retired (18), was their head coach.
But even with Shinn's money, Gabriel as head coach, and former pro quarterback Johnnie Walton and eventual Pro Football Hall-of-Famer Claude Humphrey as offensive and defensive coordinators, they went 0-10 in a weak league (the WLAF was nicknamed "The Laugh League") in the 1991 season. And, with no beer sold, they averaged just 12,066 fans per home game. (Even the Hurricanes can usually top that.) The team was moved to Columbus for the 1992 season and renamed the Ohio Glory.
Carter-Finley Stadium hosted a summer tour soccer game between Italy's Juventus and Mexico's C.D. Guadalajara (a.k.a. "Chivas") in 2011. It has also hosted concerts by Paul McCartney, Pink Floyd, U2 and, just this past summer, the Rolling Stones. 4600 Trinity Road at Youth Center Drive, separated from the PNC Arena by Stephen Stroud Way.
According to
an article in the September 2014 issue of The Atlantic
, as you might guess, the Charlotte-based Carolina Panthers, just 168 miles from the State House, are the most popular NFL team not just in Charlotte and in the Raleigh-Durham area, but in the entire State of North Carolina. However, both Carolinas have significant pockets of support for the Washington Redskins, the Pittsburgh Steelers and the Dallas Cowboys, mainly due to the media saturation (and, in the Redskins' case, proximity is also a cause). In particular, these teams tend to cancel out Panther support in the ocean resort communities, on the Outer Banks of North Carolina and at Myrtle Beach and Hilton Head in South Carolina.
* Reynolds Coliseum. Home to N.C. State basketball from 1949 to 1999, the William Neal Reynolds Coliseum (named for the former chief executive of R.J. Reynolds Tobacco Company and brother of R.J. himself) hosted the Wolfpack teams that won the National Championship in 1974 and 1983, reached the Final Four in 1950, and won the ACC title in the regular season in 1950, '51, '53, '55, '56, '59, '73, '74, '85 and '89; and in the tournament in 1950, '51, '52, '54, '55, '56, '59, '65, '70, '73, '74, '83 and '87. (They haven't won either since moving into the new arena.)
The Coliseum was the home of the ACC Tournament from 1954 to 1966, and has hosted many NCAA Tournament games, and still hosts them for the women's tournament. It remains the home for N.C. State women's basketball and wrestling. It is currently undergoing a renovation that is scheduled to be completed next August, providing more space for offices and a school Athletic Hall of Fame, but also reducing the seating capacity from 9,500 to 5,600. 2411 Dunn Avenue at Jeter Drive (not named for Derek Jeter), next door to the Talley Student Union.
* Five County Stadium. Home to the Carolina Mudcats since 1991, the original owner wanted to get as close to downtown Raleigh as possible without infringing on the territory of any other team, including the Greensboro Hornets, which he also owned. Zebulon was as close as the Durham Bulls would let him get.
The Mudcats won Pennants in the Class AA Southern League in 1995 and 2003, but have not won one since moving to the Class A Carolina League in 2012. Ironically, where they were once higher in classification than the Bulls, they are now lower. 1501 State Highway 39 at Old U.S. 264, 26 miles east of the State House. Accessible by car only: No public transportation out there.
* Durham Athletic Park. Made famous by the 1988 film
Bull Durham
, which jump-started the minor-league baseball craze of the late 20th Century, the Durham Bulls played at the site of "The DAP" from 1926 until 1994 (with a rebuild in 1939-40 after a fire), mostly in the Class A Carolina League. Having already won Pennants in 1924 and '25, they won them at The DAP in 1929, '30, '40, '41, '57, '65 and '67.
The film, which takes place in 1987, the year before it was released (a fact confirmed by the calendar in the manager's office), gives the impression that they weren't very good, and hadn't been for a long time, but got to 1st place by the 4th of July, and then faltered. In real life, they went 67-75 that season, But they did have 6 players who went on to reach the major leagues: Kevin Brown, Kent Mercker, Mark Lemke, Derek Lilliquist, Gary Eave and Rusty Richards. Not bad for a Single-A team that was 8 games under .500. Then again, this was before their parent club, the Atlanta Braves, got good again in 1991, so they needed whatever help they could get. But Mercker and Lemke were a part of the Braves' quasi-dynasty.
The film made The DAP the most famous minor-league ballpark ever. But the park became a victim of the film's success: Soon, people came flocking to it, and its 5,000-seat capacity was now obsolete. A new ballpark was built, but the old one was left standing, and is still used for local baseball.
428 Morris Street. Unlike the Mudcats' home, The DAP can be reached by public transit from Raleigh. Take Bus 100 to the Regional Transit Center, then switch to Bus 700, and take that to the Durham Amtrak station. Then Bus 4 or a short walk.
* Durham Bulls Athletic Park. The DBAP (pronounced DEE-bap) has been home to the Bulls since 1995, and since 1998 they've been the Triple-A farm team of the Tampa Bay Rays. The Bulls have won International League Pennants there in 2002, '03, '09 and '13, making a total of 13 Pennants in various leagues at various levels.
Although it seats twice as many, 10,000, the Bulls tried to make it as much like the old DAP as possible, including the 305-foot right-field fence, nicknamed the Blue Monster, complete with the famous bull "HIT SIGN WIN STEAK" sign that was erected for the movie and kept. Even the overhanging roof, although up to public safety code, looks pretty much the same. 409 Blackwell Street at Willard Street, a 5-minute walk from the train station.
According to
an article in the April 24, 2014 edition of The New York Times
, the Yankees are the most popular MLB team in the Triangle, averaging around 26 percent, with the Boston Red Sox at 20 and the Atlanta Braves at around 12. That's almost totally due to the media outreach, since the Braves are easily the closest team, 265 miles away.
* Duke University. As with the Durham ballparks, reachable by taking Bus 100 to the Regional Transit Center and transferring to Bus 700. Cameron Indoor Stadium, opening in 1940 and thus celebrating its 75th Anniversary this year, is at 115 Whitford Drive. Wallace Wade Stadium, opening in 1929, is next door. 27 miles northwest of downtown Raleigh, up U.S. Route 70.
* The University of North Carolina. About 28 miles northwest of downtown Raleigh, but in a slightly different direction, on Interstate 40. The Dean E. Smith Student Activities Center, a.k.a. the Dean Dome (where they've won National Championships in 1993, 2005 and 2007), is at 300 Skipper Bowles Drive. It's just 11 miles between the Dean Dome and Cameron. The old arena, Carmichael Arena, where the Tar Heels played from 1965 to 1986 (and won the National Championship in 1982), is at 310 South Road. Woollen Gymnasium, where they played from 1937 to 1965 (and won the National Championship in 1957), is also at South Road. And Kenan Memorial Stadium, home to Tar Heel football since 1927, is at 104 Stadium Drive.
According to
an April 23, 2014 article in The New York Times
, the Yankees are actually the most popular MLB team in Charlotte, a little bit ahead of the Atlanta Braves, the closest team at 244 miles away. (The Washington Nationals are the next-closest, 402 miles.)
The U.S. national soccer team only played 1 game in the Triangle, a 1-1 draw with Jamaica in 2006, at WakeMed Soccer Park in Cary, about 8 miles west of the State House.
Museums.
The North Carolina Museum of History and the North Carolina Museum of Natural Sciences are next-door to each other, across Edenton Street from the State House.
The Beatles never performed together in the Raleigh-Durham area, although Paul McCartney and Ringo Starr have done so on solo tours. Elvis Presley only did so early in his career, all in Raleigh (never in Durham or Chapel Hill), at the Memorial Auditorium on May 19 and September 21, 1955; and a whopping 4 shows in 1 day at the Ambassador Theater on February 8, 1956. The Memorial Auditorium is now the Duke Energy Center for the Performing Arts, at 2 E. South Street, 7 blocks south of the State House. The Ambassador is at 115 Fayetteville Street, just south of the State House, but was demolished in 1989.
PNC Plaza, at 538 feet, is the tallest building in Raleigh, and the tallest building in the Carolinas outside of Charlotte.
Bull Durham
was filmed almost entirely in Durham and other North Carolina minor-league towns. Mitch's Tavern, site of the bar scenes near the beginning and the end of the film, is still in business, at 2426 Hillsborough Street in Raleigh. Other movies filmed in the area include
The Handmaid's Tale
(which used Duke University for some location shots) and
Brainstorm
(Natalie Wood's last film, which also did some filming at Duke).
A few TV shows have been filmed in North Carolina, most notably Dawson's Creek in Wilmington. But shows set in Raleigh are few and far between.
The Andy Griffith Show
, set in fictional Mayberry and based on Griffith's real-life hometown of Mount Airy, mentioned Raleigh a few times, but was filmed in Southern California. A statue of Griffith and Ron Howard as Sheriff Andy Taylor and his son Opie was dedicated by television network TV Land. It depicts them walking down the fishing trail, as seen in the show's famous opening. Unfortunately, the fishing poles the figures hold are frequently swiped. Pullen Park, near the carousel. 408 Ashe Avenue, a mile and a half west of downtown. The 100 bus gets you about halfway there. A copy of the statue stands outside the Andy Griffith Museum at 218 Rockford Street in Mount Airy, 139 miles to the northwest, near the Virginia State Line. Pilot Mountain (known on the show as Mount Pilot) is 16 miles southeast of Mount Airy.
*
The Raleigh-Durham Triangle isn't really big enough -- yet -- for a major league sports team. And the Carolinas are certainly no place for hockey. But, for better or for worse, the Hurricanes are there, and they have a Stanley Cup and are a perennial Playoff team. Maybe the Devils can show the fans down there -- the ones who show up, anyway -- what a real hockey team looks like.